HOW

to

REDUCE

marketing costs with

INTERACTIVE

content and

VIDEO
The math works
$25K spent once SAVES $25K – over and over.
How?
Stop bringing all your products to trade shows
Embrace interactive content and videos
Adopt tools that improve comprehension, conversion rates and sales
My name is Michael Lomb.
As a professional content developer of over 25 years, I consult marketing teams of large multinational companies. The most frequent obstacle my clients face, is being challenged to sell more, with less money (while being better).
Technology offers new solutions
THE PROBLEM.
As marketing professionals, we are often told;
The tools we require to accomplish our company's goals are too expensive
. While we are employed to bring new tools and solutions to life, our efforts are frequently obstructed by financial constraints. And, by colleagues who have difficulty understanding their ROI.
This happens, despite sales and communications teams pleading for new and effective tools
.
This recurring frustration (the cost objection) became inspiration for my team to solve this problem. So we discussed the issue with peers, clients and researched marketing statistics, via HubSpot, LinkedIn, etc. All these sources contributed, but the solution came from our clients' own sales organizations.
SOLUTION.
Embrace new interactive content strategies that provide ROI
. Because new content will always incur additional costs, strategies requiring new content are frequently rejected. But what if new content costs were not additional? This is where sales organizations provided the answer;
Stop sending all your products to trade shows
. This saves a lot of money, and frees up time. During our research, sales stated over and over …
"My company is willing to spend tens of thousands, per trade show, bringing products to exhibit. It's expensive and complicated. Products have to be available, clean, and working perfectly. We have to ship them, set them up, tear them down, and pay absorbent fees. But our company won't pay for new marketing tools our competitors are already using."
We discovered, the sales people were right. Money is being wasted and sales lost, because companies are not approving the spend on new content development – while they continue to spend (exponentially) the old way.
Instead … the sales people we spoke with wanted
interactive touchscreen experiences,
and

interactive product videos.
INTERACTIVE VIDEOS & PRESENTATIONS.
This is what sales professionals want. Professionally produced, sophisticated, highly-realistic and often animated,
Interactive videos
, that effectively replace actual products at trade shows. They can be presented on large monitors, used in all forms of social media, on company web pages, on YouTube and in customer presentations. They are literally your best sales presentation, depicted perfectly every time. When encapsulated in a customer-driven touchscreen
Interactive presentation,
they become an immersive user-driven experience.
They reduce cost
Instead of bringing all your equipment to trade shows … Set up touchscreen monitors with interactive product videos and presentations. By not bringing one large product, tens of thousands of dollars are saved, annually. The savings can be reallocated to new content tools, specifically the
interactive videos and immersive touchscreen experiences
sales people are asking for. The savings are exponential, and repeatable.
My estimate below is general, and assumes one large product, vs. a 3:00 – 5:00 minute interactive product video
.
Cost of exhibiting one product
$5,000 per trade show:  
Ship, test, setup, floor space, etc.
5 shows = $25,000
10 shows = $50,000
20 shows = $100,000
These are recurring costs.
The practice is imperfect, complex and fraught with variables beyond control. Cost nets one use, one place.
Cost of interactive product video
$25,000 Interactive product video
(assumes one comprehensive interactive video)
5 shows = $25,000
10 shows = $25,000
20 shows = $25,000
This is a ONE TIME cost.
The result is perfect, with no errors. A best presentation, every time. Cost nets limitless uses, in as many places simultaneously, as can be imagined.
SUMMARY
Replacing antiquated product presentation strategies, with interactive content and video, saves money. Run the math using your own numbers, in your organization. By showing you can justify your spend, you'll increase the odds of being able to provide your sales organization with the new interactive content they want and need.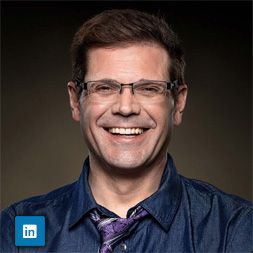 Michael G. Lomb
is a 1992 graduate of Rochester Institute of Technology's Industrial Design program. He founded MG Lomb in 1996. Since inception, Michael's goal for the agency has remained unchanged
– Develop superior creative tools for the agency's clients
.
As Creative Director.
 With over twenty five years' experience, I provide my clients with unique creative ideas and new marketing strategies. I help my clients to plan and execute complex and comprehensive solutions that are innovative, unique and impactful. My on-going work, with marketing directors, from the world's largest and most successful companies, gives me insight into the latest and most effective creative tactics. The work MG Lomb produces is shaped by this experience and insight. In this way, I advance my clients' creative and marketing success.
What OUR customers are saying
Big Show is going on right now! The final proof is how the customer receives them; but, so far I have heard only positive reviews.
Thanks again for the great support from the MGLomb team!
Rolando D. Ventura,
SE/ACE
L3Harris Technologies
This is killer. Looks amazing. I honestly do not have any changes or notes. Thank you very much for this. Please tell the team they did an incredible job.
Thanks again for another successful delivery.
Steve Toth,
Senior Manager – Digital Lab
Mattel Creative Studios
We have worked with MG Lomb now on several projects, each one progressively more complicated than the last. Work ranging from video animations to complex interactive experiences. On each occasion, … read more
Robert Hough,
Creative Services Manager
L3Harris Technologies
This is a very good animation that I think we should all be able to benefit from.  We have been receiving a lot of very good comments from customers, users and new potential business.  We have also … read more
Andy Goll,
Director of Sales & Marketing
Weiler Engineering
The instrument and TRT looks freakin' fantastic!!! I speak highly to [mutual client] about you guys. But I guess they already know that you are great, and this last animation took us to the moon and back!!
Nice job – many kudos!!!
Thomas Overbey, CCSVP,
Director of Marketing
Ultra Clean Systems, Inc.